05.24.21
Cantwell Applauds Resumption of Daily Service of Amtrak's Coast Starlight and Empire Builder Lines
Senator Cantwell's provision in American Rescue Plan required restoration of daily long-distance service.
WASHINGTON D.C. – U.S. Senator Maria Cantwell, the Chair of the Senate Committee on Commerce, Science, and Transportation, released the following statement regarding the Empire Builder and Coast Starlight Amtrak routes resuming daily service:
"For 50 years, Amtrak has been connecting us to our destinations. Whether it is Seattle to San Francisco, New York to Washington DC, or Chicago to Dallas, it had provided riders with affordable travel and tourism revenue to small and rural communities. We need to restore services cut during the pandemic, and we look forward to another 50 years of Amtrak," Senator Cantwell said.
Passenger rail ridership was hit hard by the COVID-19 pandemic, with Amtrak ridership falling up to 97% last year. Amtrak reduced its service to three days a week on long-distance routes like the Empire Builder and Coast Starlight and was forced to furlough employees across the country. Long-distance routes are critical for rural and underserved communities, many of which do not have easy access to intercity transportation.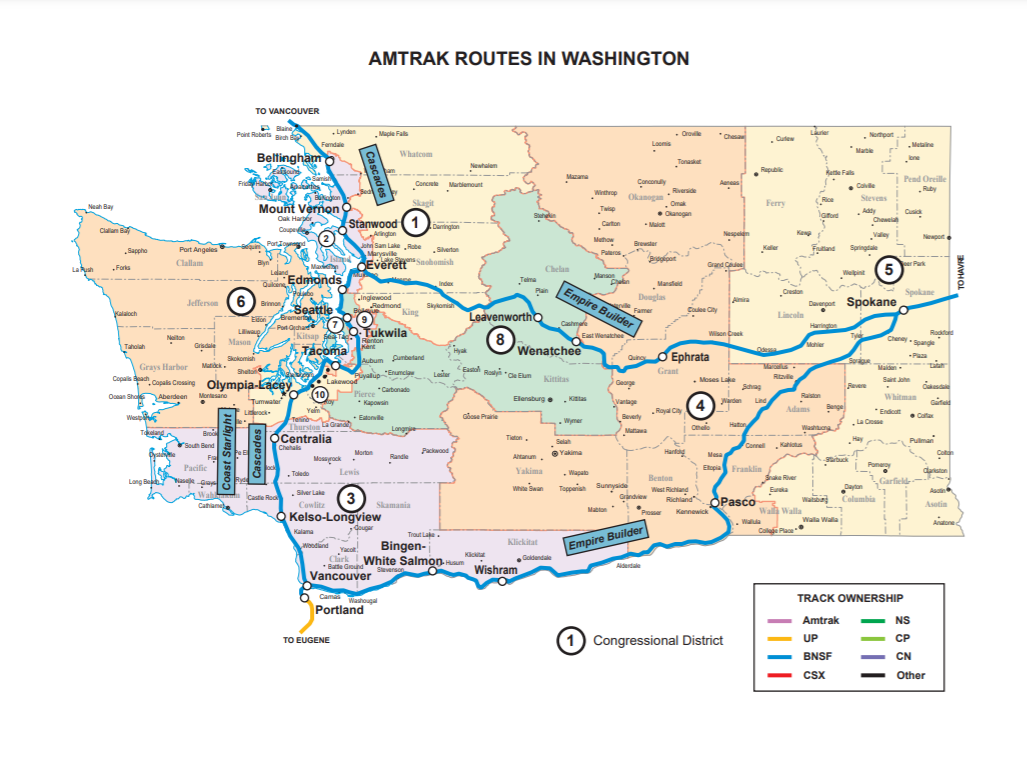 In August, 2020, when questioning Amtrak Board of Director nominees Amtrak Board of Director nominees Sarah Feinberg and Chris Koos, Senator Cantwell asked the nominees about Amtrak's long-distance lines:
"Amtrak is critical for millions of people and for us, the two lines in Washington state – the Coast Starlight and the Empire Builder – they serve 15 communities and a majority of them being small and rural communities. So, I would like to ask the nominees, do you--what kind of commitment can we get that you're going to preserve the Amtrak long distance service, and the economic lifeline that it provides to rural communities?" Said Senator Cantwell.
Video of Cantwell's Q&A with the Amtrak Board of Director Nominees can be found HERE and the press release with full transcript can be found HERE.
Senator Cantwell has been an outspoken advocate for passenger rail and Amtrak. During the pandemic, Cantwell championed $3.7 billion in COVID relief for Amtrak, including $1.7 billion in the American Rescue Plan which restored over 2,000 Amtrak jobs across the country and prevented additional furloughs. Senator Cantwell's provision requires Amtrak to restore daily long-distance service. She also recently reintroduced legislation to ensure transportation worker safety amidst the public health crisis.?
Earlier this month, the senator also led a resolution to commemorate Amtrak's 50th Anniversary.
###
---
---
Next Article
Previous Article